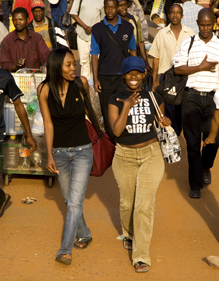 12 April 2012 – A staggering 88.1% of South African youth believe that corruption is holding the country back. This is according to a survey conducted by mobile research firm, Pondering Panda, on Africa's biggest social network, Mxit.
This figure, along with the other results of the survey, provide startling insight into perceptions of corruption in South Africa; an endemic issue which is affecting the majority of its citizens.
Pondering Panda gathered responses from 6121 individuals over a six day period, the majority of whom were below the age of 35. The survey revealed that irrespective of race or age, South Africans see corruption as a disease from which no one is immune.
Perhaps one of the most alarming findings from the survey was that 42.53% of South African youth felt that corruption was most evident in government, in contrast to just 4.22% in business. Furthermore, 38.57% of South Africa laid the blame for corruption on the governing ANC.
"Corruption is an issue that affects every South African, but the youth will be left to bear the burden alone if we don't fight it now," says businessman and anti-corruption activist, Hugh Glenister.
Last year, Glenister took a stand against corruption when he challenged the constitutional validity of the SAPS' anti-graft unit, the Hawks, successor of the disbanded Scorpions. Glenister won the Constitutional Court judgment and parliament has been given until September this year to pass remedial legislation.
Last week, in his ongoing bid to rally support behind this issue, Glenister posed a R100 000 challenge to Southern African youth, inviting them to submit their "best practice" suggestions for a new, independent anti-corruption unit for South Africa. This week, Glenister upped the stakes by increasing the prize purse to R300 000 and opening the competition to all Southern Africans, including the Indian Ocean Islands, irrespective of age.
"From the results of the survey, it is clear that the youth is cognizant of both the extent and the source of corruption in the country, and hopefully this competition will provide them with the necessary platform to get involved in what is clearly a burning issue for them," commented Glenister.
The competition has been extended to Southern Africans, who may enter privately or as part of a university team. Applicants are invited to submit, in English, their proposed draft legislation and accompanying memorandum before 10 August 2012.
Check our site's "current news" section for more competition details!
To see the survey results in an infographic, click here.
Image

Excerpt
Last week activist Hugh Glenister invited young Southern Africans to submit ideas for a new anti-graft framework for the Hawks – now staggering stats have prompted him to up the prize purse by R200 000 and open the contest up to Southern Africans of all ages.