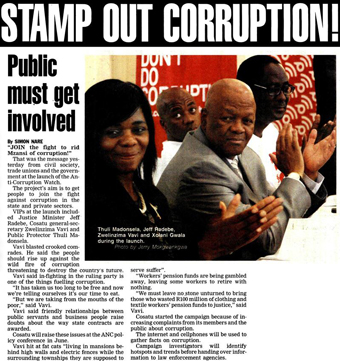 A firm sense of optimism and support dominated media coverage of Corruption Watch's launch on Thursday 26 January, with newspapers, radio and TV all carrying accounts of the event.
News coverage spanned the country and was as prominent in national publications and broadcasts as it was in community newspapers and radio reports, spreading the message to a wide and diverse audience.
This ensured that even poor, marginalised communities –which are most vulnerable to the effects of corruption – had access to vital information.
Radio pieces about the launch were broadcast in all 11 official languages, and print articles were published in English, Afrikaans and isiZulu.
"We're particularly gratified at the response of the non-national media and particularly community radio – we are especially interested in engaging with precisely those communities which experience the sharp end of corruption," Corruption Watch director David Lewis said.
Private sector will not be spared
Significant coverage in Friday's Business Day and Business Report, and the Sunday Times' business section perhaps pointed to the serious threat corruption poses to investor confidence, and how not even South African corporates will be immune to probes by the graft-busting institute.
In many of the pieces Corruption Watch was discussed in context of the recently released Auditor-General's report – which uncovered R26-billion in unauthorised expenditure in 2010/11, Limpopo's financial woes and the proliferation of tenderpreneurs.
The launch was also well covered in terms of press photography, with several of Friday's dailies carrying a front page picture of the event. Most showed interaction between panellists, including Cosatu secretary-general Zwelinzima Vavi, Justice Minister Jeff Radebe and Public Protector Thuli Madonsela.
This could allude to Corruption Watch being the first anti-graft initiative to be backed by such influential individuals and the organisations they represent.
"Corruption Watch … has been endorsed by the government, [the judiciary] and a range of civil societyand business organisations – arguably the most important political development in South Africa since the Polokwane putsch of 2007 … because it strongly reinforces the Zuma administration's decision to opt for clean government," Business Day's editorial on Friday read.
Call to action
Coverage also made broad mention of how the public can become involved by using social media tools like Facebook and Twitter, or SMSs to report incidences of corruption. Almost all print articles about the launch carried the contact details at the end.
Friday's edition of Daily Sun, the most widely read newspaper in the country, carried a strong message with the headline: Stamp out corruption! – public must get involved. The opening sentence reflected a similar call to action: Join the fight to rid Mzansi of corruption!
Mzansi is slang for "the south", often used when referring to South Africa.
Business Day's editorial said "… the importance of the organisation's emphasis on broad public and corporate participation in the campaign, and its plan to make use of widespread social media, cannot be underestimated."
In the Sunday Times' piece Corruption Watch's David Lewis referred to this approach as "democratising technology".
The Sunday paper's focus also included an "agony aunt" column, which will be a weekly feature. Readers who've witnessed acts of corruption or face ethical dilemmas are invited to write in with their quandary to which Corruption Watch's team of experts responds.
Accompanying The Star's article was the sidebar, But what about the info bill?, which discussed how the Protection of State Information Bill could affect whistle-blowers.
"When asked about how the bill might stand in the way of reporting corruption, [Justice Minister] Radebe declined to comment. He did, however, say that no bill that would infringe on media freedom would ever be passed," sidebar read.
Enough's enough
City Press editor Ferial Haffajee, in her column Tjatjarag, referred to Corruption Watch and its launch as "the beginning of a fight we can and must win".
"I pray it will work – that the gory eat-fest of conspicuous consumption that has come with the era political tenderpreneurs can be beaten. It never suited this fine country and on Thursday, we began to say 'Enough'!" she wrote.
In the Mail & Guardian's analysis piece, Champagne wishes and corrupted dreams, Tanya Pampalone discussed the Corruption Watch pledge, which all dignitaries and members of the public at the launch signed, committing to proactively fight graft.
"We're a tough crowd to convince. It seems we don't believe our voices will do much of anything," she wrote, citing a recent survey that found 83% of adults thought corruption was just a way of life in South Africa.
"It seems Corruption Watch's first order of business is to make us all believe."
Image

Excerpt
A firm sense of optimism and support dominated media coverage of Corruption Watch's launch on Thursday 26 January, with newspapers, radio and TV all carrying accounts of the event.