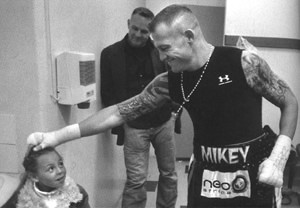 They say a picture paints a thousand words – nothing could be more true than the recent coverage of company Neo Africa in City Press, which carries a photograph of the firm's owner Vivien Natasen posing with a certain boxing coach …
Natasen, in his open-collar shirt and pin-stripe jacket, is locked in an action pose with a streetwise, thick-set man bedecked in chunky gold chains and rings: Nick Durandt of Durandts Boxing World. Behind him are three other boxers with red gloves poised. Underneath the caption reads: "Vivien Natasen of Neo Africa with trainer Nick Durandt and his boxers during a sponsorship announcement."
Neo Africa's been in the news for all the wrong reasons – among clear evidence of serious tender irregularities first exposed by Limpopo textbook whistleblower Solly Tshitangano, they've been revealed as the firm hired, for a princely fee of R3.7-million, to express an opinion on the tender and to "investigate" reports of wasteful expenditure.
Surprise, surprise they concluded that Tshitangano had been responsible for wasteful expenditure and recommended his dismissal.
So this should already cast some suspicions on the man gazing out at the camera in the pin-stripe jacket. But his juxtaposition with a certain boxing coach takes it to a whole new level – a level connected with, believe it or not, slain master swindler Brett Kebble.
Enter Mikey Shultz, the self-confessed hit man who pulled the trigger in the mining magnate's sensational "assisted suicide" on a bridge over Johannesburg's M1 in late September 2005. Known as boxing's "bad boy", Shultz has also been described as the "35-year-old boxer who fights out of flamboyant trainer Nick Durandt's stable".
Together with accomplices Faisal "Kappie" Smith and Nigel McGurk, Schultz was given immunity from prosecution for the Kebble murder in exchange for testifying against the so-called mastermind Glen Agliotti. Agliotti was acquitted of murdering Kebble in November 2010.
But back to Neo Africa and the boxing connection.
Leafing through author Mandy Wiener's book, Killing Kebble – an underworld exposed, I catch sight of photos taken in July 2010 before one of Shultz's critical matches in Johannesburg's Wembly Arena, two weeks before he and his co-accused go on trial for Kebble's murder.
What's interesting about these pre-match shots of the tattooed Schultz psyching himself up in the arena's grimy bathrooms, are what's on the satin shorts he's wearing: in clear lettering on the front and back are the words "Neo Africa".
So the firm, hired to okay the now-infamous multimillion-rand tender for Limpopo's textbooks which were never delivered, is also the firm which sponsored a self-confessed assassin. Make of that what you will.
Image
Excerpt
They say a picture paints a thousand words – nothing could be more true than the recent coverage of company Neo Africa in City Press, which carries a photograph of the firm's owner Vivien Natasen posing with a certain boxing coach